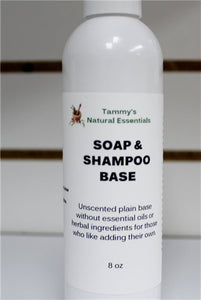 LIQUID SOAP & SHAMPOO (UNSCENTED)
Tammy's soap & shampoo base is gentle on your skin and truthfully produced from renewable vegetation. Simplify your life and use this product from head to toe, and even wash delicate clothing!  

Our soap & shampoo base does not contain Sodium Laureth Sulfate! 
It is a little thicker than castile soap
Shampoo base: Purified Water, Decyl Polyglucose, Vegetable Glycerin, Xanthan Gum, and Citric Acid.
UNSCENTED  
The 64 oz is for local delivery, if shipping there will be additional fee applied to cover the postage.