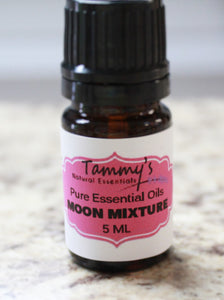 MOON MIXTURE
Moon mixture was created the night of the harvest full moon. Ever notice that either you or others may feel more agitated, tired, emotional or just moved in a direction that is different during the full moon?
Our Moon mixture creates a harmony within the body, it touches the heart in a special way while creating a peaceful environment within us. Moon mixture has a way of helping with grieving the loss of a loved one, creating balance for PMS, calming rage in menopausal women and helping the single mom feel like a woman.
Contains: Pure Essential Oils: Rose, Frankincense, Chamomile, Cedarwood and myrrh.
Avoid topical application when pregnant, with high blood pressure or cancer.