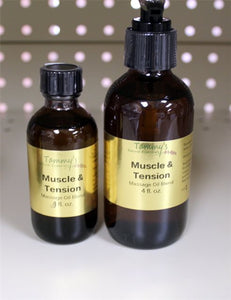 MUSCLE TENSION MASSAGE/BATH OIL
Essential oils blended together and diluted into a carrier oil for deep down muscle relief from tension and tightness. 
Contains Hazelnut Oil, Vitamin E. Essential Oils: Wintergreen, Lavender, Peppermint, Frankincense and a few others. 
Avoid contact with the eyes. Avoid when pregnant
Try adding our Muscle tension oil to your bath time for a more "Cooling" effect.