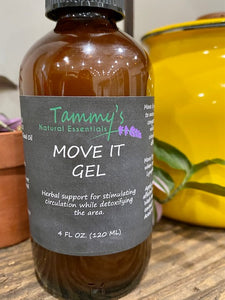 MOVE IT GEL
HERBAL SUPPORT FOR STIMULATING CIRCULATION WHILE DETOXIFYING THE AREA.
Move It Gel was designed to move inflammation, congestion and or pain while increasing circulation to the affected area.

This can also be applied to the back of the lung area and the front chest area to help move fluid from the lungs and in some cases congestion in the head area.
Herbs serve more than one purpose... find your reason to use Tammy's Move It Gel!
I find this product combine with a lymphatic massage to be incredibly awesome! 
Avoid contact with the eyes. Avoid topical application when pregnant and keep out of reach of children. Avoid or use caution with epilepsy & cancer.
Contains: Organic Aloe Gel, Organic Olive Oil, Organic Hemp Seed Oil, Juniper, Cypress, fennel and a few other herbs. 
4 oz Amber Glass Jar with pump
This product is people & pet (Dog & Horse) friendly. When using herbal products, one should take a break after daily use of 3-4 weeks or if conditions do not improve, seek the advice of a qualified physician. 
Massage therapist, we recommend that you use this product as is. When adding other carrier oils to this formula you will be changing the potency & viscosity which will promote separation.
Larger sizes available.