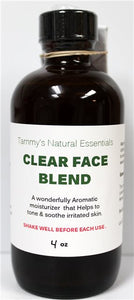 CLEAR FACE BLEND
Our Clear Face Blend: Helps to maintain healthy, clear skin. A wonderfully Aromatic blends that helps to tone & soothe irritated skin. Apply using a cotton pad or fingers to clean, dry skin, avoid eye area. For external use only.
We recommend using this product with our Neem Soap & Shampoo (for cleansing) if an additional moisturizer is needed we recommend our Sea Buckthorn Nourishing Serum or Moisturizing Skin Spray  all are designed for problem skin such as Acne.
Contains: Witch Hazel, Rose Hydrosol, Echinacea, Calendula and Myrrh Gum. Vitamin E added for preservation.
The information provided on this website has not been evaluated by the Food and Drug Administration. All material provided is for informational or educational purposes only, and is not intended as a substitute for the advice or care provided by your healthcare professional or physician. This information/product is not intended to diagnose, treat or cure any disease.