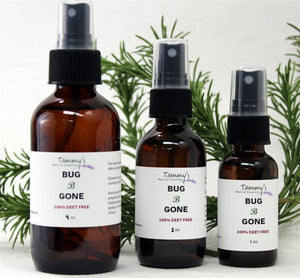 BUG B GONE SPRAY
An aromatic blend of essential oils. A 100% DEET FREE  way to stay outside longer. Avoid when pregnant, with high blood pressure and epilepsy, not for small children and avoid contact with the eyes. Possible skin irritant. 
Safe to use on Dogs, Chance has tested and approved it!
Keeping in mind nothing is 100% bug free, we like to think our Bug B Gone does a good job at helping to keep the mosquito, ticks, and wasp away.
Contains Essential Oils: Geranium, Lemongrass, Eucalyptus, Citronella and several other oils.