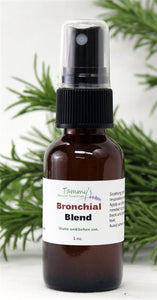 BRONCHIAL BLEND
Soothing to the respiratory system. Many of our customers that struggle with Asthma, emphysema and COPD, bronchitis and other respiratory issues have found relief in our Bronchial Blend. This product is not to take place of  your emergency inhaler. 
Topical application. Not for internal use. Avoid contact with the eyes. Keep out of reach of children. 
Contains: Essential Oils: Frankincense & Eucalyptus
Avoid when pregnant. Use caution with high blood pressure.
The information provided on this website has not been evaluated by the Food and Drug Administration. All material provided is for informational or educational purposes only and is not intended as a substitute for the advice or care provided by your healthcare professional or physician. This information/product is not intended to diagnose, treat or cure any disease.