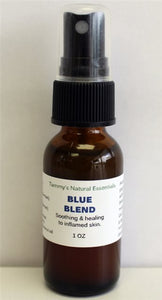 BLUE BLEND
Contains: Essential Oils: Helichrysum, Chamomile, Blue tansy, Carrot Seed, and Lavender. 
I had an allergic reaction to medication and was itching from head to toe! I created our " Blue Blend " the night I was about ready to rip my skin off! (yikes, it was bad) all I can say is this blend really worked for me... stopped my itching on contact! Thank you Lord! :)
My daughter Taylor, has been having a skin reaction to some furry 4 legged friends where she works, once she uses the Blue blend, the itching stops and the rash starts to clear up! 
The Blue Blend is one product that stays in our first aid kit!

Safety warning: Avoid when pregnant or  taking blood thinning medication. 
The information provided on this website has not been evaluated by the Food and Drug Administration. All material provided is for informational or educational purposes only, and is not intended as a substitute for the advice or care provided by your healthcare professional or physician. This information/product is not intended to diagnose, treat or cure any disease.