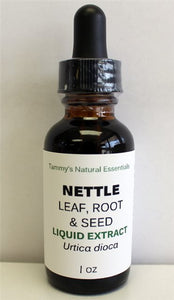 NETTLE LIQUID EXTRACT
Urtica dioca
Org. USA
Safety warnings: Safe to consume when used appropriately. Use caution during pregnancy.
Liquid Herbal Extracts are herbs that have been extracted with a grain alcohol, distilled water & vegetable glycerin. Here at Tammy's Natural Essentials we believe in the "Old School" tradition for extracting an herb.  We do not take short cuts and speed the process of the extraction. The result is a finished product worthy to be used by us and our customers.  Liquid extracts are wonderful for traveling, easy to use and have a lengthy shelf life. 
How to use an Herbal Extract:
Shake well, Place a few drops or dropperfuls in a little water and "down it". Some extract do not have a yummy taste this is when you will use a small amount of water, (1 oz. Dixie cup size)  you may not want to savor it in an 8 oz. glass of water.  
It is best to keep the herb active in your body by ingesting it 2-4 times a day or as directed on the label.