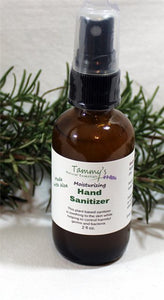 HERBAL HAND SANITIZER
 Moisturizing Sanitizer 

An aromatic blend soothing to the skin, while fighting harmful germs and bacteria. Shake well before each use. Apply to skin, rub and allow to air dry. Avoid contact with eyes. Not for small babies, individuals with epilepsy or while pregnant. External use only.

Contains: Essential Oils:

Lemongrass, Eucalyptus, Tea Tree and Lavender

The information provided on this website has not been evaluated by the Food and Drug Administration. All material provided is for informational or educational purposes only, and is not intended as a substitute for the advice or care provided by your healthcare professional or physician. This information/product is not intended to diagnose, treat or cure any disease.