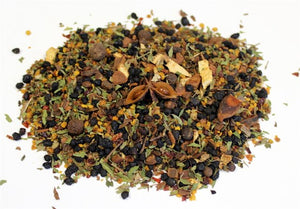 ELDERBERRY TEA
A tasty and festive blend of herbs, to help the immune system in the fall, winter or any season. If you like your tea a little sweeter, add raw honey to your cup and get additional benefits from our bee friends. 
Contains Organic: Elderberries, clove, cinnamon, anise, cardamom, bee pollen, mint, and citrus.
Safe to consume when used appropriately. Use caution if you are allergic to bees.