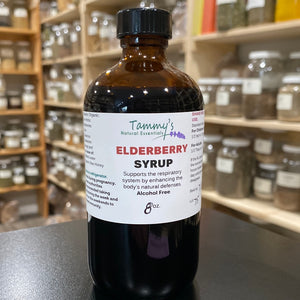 ELDERBERRY SYRUP
Our Elderberry syrup is an essential part of our An Herbal Apothecary. 
Made with: Organic Elderberries, Clove, Cinnamon, Ginger, Orange Peel, and Raw Honey. Refrigeration is needed. This product does not contain ALCOHOL. 
Not recommended for children under 1 year of age due to the honey content.  
If we are shipping your Elderberry syrup ...when it arrives it may be warm (do not open it) put directly into the refrigerator and allow it to chill for a few hours before opening. Follow directions on the bottle. In an acute situation take the recommended dosage every 3-4 hours until symptoms subside then lower dosage to maintenance dosage. 
When ordering our Elderberry Syrup in bulk (64 ounces) it will be in a plastic jug for safer travels to you. Contact us to place an order for the 64-ounce jug.