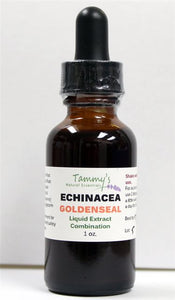 Echinacea & Goldenseal Extract Combination
Echinacea & Goldenseal help to maintain health in a variety of circumstances. The taste of goldenseal is very bitter. For convenience, we offer this same combination in capsule form. However you choose to use the herb is up to you, just as long as you use it!
It contains Echinacea angustifolia, Hydrastis canadensis, distilled water, grain alcohol, and vegetable glycerin. 
Caution: Avoid when pregnant. Some authorities suggest echinacea should not be used in autoimmune diseases.