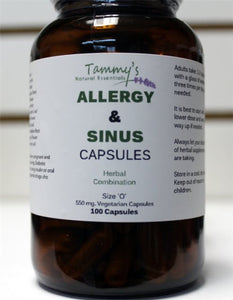 ALLERGY & SINUS HERBAL CAPSULES
Contains Pure Herbs: Nettle leaf, Bee Pollen, Astragalus root, Elder flower, Thyme Herb, Peppermint leaf, Mullein flower, Plantain Leaf, Marshmallow root, lavender flower and Rosemary leaf. 
100 count size 'O" 550 mg Vegetarian capsules in a paper envelope.
Avoid when pregnant and while nursing. Diabetic persons using insulin should consult with their doctor before use.