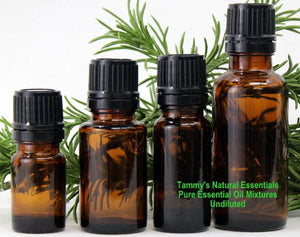 4 T's Mixture
Our version of thieves, a wonderful combination of undiluted essential oils for diffusing in the air to help fight off germs and sickness. You can dilute this mixture for surface cleaning or highly dilute (4-9 drops per ounce of carrier) and apply to the bottom of feet , thumus area and chest/back area.
ADD A FEW DROPS TO YOUR MOP WATER!
Avoid topical application if pregnant or nursing, and children under the age of 18 months. Avoid contact with the eyes. Diffusing is okay for all ages. 
Contains undiluted: Rosemary, Lemon, Cinnamon, Clove and Eucalyptus (radiata).